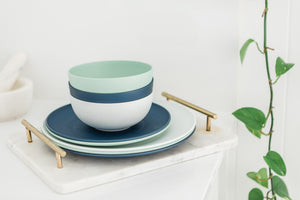 EARTH FRIENDLY DINNERWARE
For mini humans, changemakers & adventure seekers.
If you're anything like us, you probably love adventuring, travelling, and marvelling at the magic that Earth has to offer – but you don't want to harm the environment along the way. That's exactly how our story began. We set out on a search for high-quality, ocean-friendly, eco-conscious dinnerware.
When we couldn't find what we were looking for, we had an idea: "Let's bring it to life ourselves". At that moment, Daisy Graze was born – leading us right here, right now, into the hands of a like-minded changemaker: you.
Daisy Graze is a completely Earth-friendly grazing range. Our products are made from plants. Fully compostable. Dishwasher and microwave safe. Unbreakable. (Drop them to your heart's content.) 
Here at Daisy Graze, we're all about coupling quality with sustainability for a happy and healthy planet. The best part? With us, you can live a life of spontaneous adventure and enjoy your favourite food without a single bit of guilt. 
Psssssst…
Can we introduce you to our sun-chasing, dog-loving, eco-friendly founder?
Her name is Janelle and we think she's pretty swell.
She even went on a coffee date with Chris Hemsworth once (and by date, we mean she met him briefly in a café, but whatever).
Here are some other fun facts about our head trailblazer
J –uggles business-life with Mum-life. 
A –dventures are the way to her heart. And tacos. (Can we get an amen?)
N –ext level obsessed with Mexico and margaritas.
E –ntertainer of friends and family and a bit of a social butterfly.
L –una is her pet dog. She would have called her Daisy but got rudely outvoted. 
L –oves plants but can't keep them alive to save herself.
E –xploring, holidaying and caravanning are her go-to weekend bliss.
On a serious note, Janelle appreciates the planet, her health, the ocean and just generally being a good human. But you know what else? She values good-quality, practical products that actually make a difference. So, like the go-getter that she is, she had to do something about it. Hence, Daisy Graze!
She knows you'll love your grazing goodies just as much as she does.
Happy grazing, happy adventuring. 
P.S. We'd be delighted to get to know you, too.
Let's be friends on Instagram